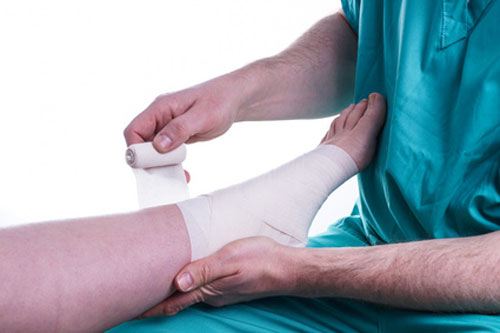 What To Do After An Ankle Sprain
An ankle sprain is common and often heals within weeks. At the same time, there is a risk of consecutive injury or consecutive ankle sprains. You could spend weeks healing only to roll your ankle again. This re-injury is fairly common with ankle sprains, which is why so many people end up with weak ankles leaving them susceptible to multiple injuries.
I am going to teach you today how to not only heal your ankle sprain but make sure your ankle regains it's strength limiting the chances of sustaining chronic sprains.
Firstly, after your sprain, you will want to get off your ankle, elevate it, and ice it. Do this 3 times a day for the first week because this will relieve inflammation and speed up the healing process. Next, wear crutches if you can't walk without pain. The goal in early ankle sprain treatment is to do everything possible not to further damage your ankle as this will only lead to a longer recovery time.
After, you will want to schedule an appointment to get an x-ray making sure that you have a sprain and not a worse injury like a fracture. This can be done by a radiologist or a podiatrist. You will also want to purchase an ankle brace. This brace is crucial to the recovery of the ankle because it restricts ankle movement making it virtually impossible to re-roll or twist your ankle.
Don't Forget To Strengthen Your Weak Ankles
After taking these preliminary steps to healing, it is time to guide your ankle back to full health and this is best done with Physical Therapy. At Cross Bay Physical Therapy, our physical therapists create a customized program of healing for your and we will guide you each step of the way as your ankle improves.
This physical therapy program includes hands-on therapy, stretching, and exercises to bring your ankle back to full health and strength. An ankle is extremely weak after a sprain. Once the ankle somewhat heals, it will still be very weak. If you are walking casually because you have no pain, your ankle is still weak. Any little misstep is more likely to cause your ankle to roll and then, you will have to undergo another month of healing time.
At our Physical Therapy facility in Howard Beach, we make sure your ankle strength is built up so when you are walking around during the day, the risk of another sprain is much lower. Once your ankle full heals, it will also be strong and able to wisdom normal daily activity.
Physical Therapy is important to avoid weak ankles and chronic ankle sprains. We will help you heal your ankle and get back to your full strength and mobility.
Call (718) 835-0084 and schedule your evaluation.