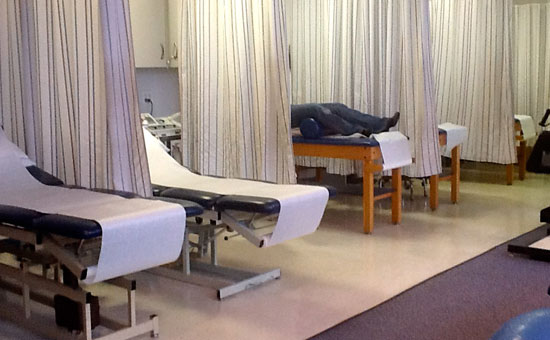 With football season back in play, teams like the New England Patriots are gunning for the playoffs once again. One common problem that athlete's and others deal with is sustaining terribly knee injuries or damaging the knee in someway that makes it difficult to walk or exercise.
Bad Knee Pain
Knee injuries can be terribly painful and affect all areas of one's life. Whether from sports, arthritis, or a bad fall, knee pain is something you want to fix fast. Physical Therapy for knee pain is an important part of this recovery process because physical therapists use techniques that lead the knee through its recovery process by providing stretching, exercises, and other techniques that make the knee heal faster.
Pain in the knee can be caused by repetitive trauma and by strain or injury. Occasionally, there is no obvious reason as to why you are suffering from knee pain. This is ok. A doctor can help to diagnose your knee problem correctly.
Common knee injuries like an ACL tear, an MCL tear, an LCL tear, arthritis of the knee, and runner's knee all benefit from Physical Therapy. When you come in for your physical therapy evaluation, your physical therapist will first determine a treatment plan for you in order to eliminate the pain and injury.
The Strategies Used In Physical Therapy For The Knee
Research shows that exercise is one of the best treatments for arthritis and knee injuries. Based on the severity of the injury, the level of exercise will be determined. In physical therapy, one works on range of motion exercises to increase the strength, durability, and flexibility of the knee.
Through their physical therapist, patients will learn techniques to calm the symptoms of pain, which may include the use of heat or topical rubs. The therapist can also suggest tips for getting day-to-day tasks done with less strain on the joint.
Physical therapists provide stretching exercises to decrease stiffness of the knee and keep the knee loose for exercising. Stretching has been proven to alleviate soreness and help decrease pain.
Cross Bay Physical Therapy
Cross Bay Physical Therapy has helped patients for over two decades recover from terrible knee pain, whether its from a bad fall, a painful strain, or arthritis. Our offices are located in Howard Beach, Queens and near to Lindenwood, Woodhaven, Ozone Park, and Richmond Hill. Call (718) 835-0084 today and schedule a consultation!
By Benjamin Bieber